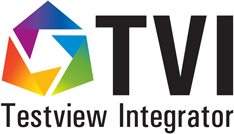 TVI is a comprehensive, flexible, and easy-to-use test management framework. It addresses test engineers' need for a simple and
cost-effective, LabVIEW™ based, framework for tester development.
TVI is an ideal platform for testing chips, PCBs, modules, and complete systems. It is also used as a process automation platform – for
electro-plating, chemical analysis and more.
Test system integration is a complex and multi-disciplinary task, requiring both excellent software skills and hardware understanding.
TVI was developed to simplify this complex task for you.
TVI has a familiar user interface, that makes LabVIEW™ users feel right at home. To make the learning process even simpler, take
advantage of the available sample projects, ready-made test templates, video tutorials and an extensive user guide.
TVI was developed, improved, and refined based on the results of hundreds of projects, serving a wide range of applications and
requirements. We also offer customization services to our clients with specifics requests.
TVI is used by technology leaders like Microsoft, GE and Orbotech, defense companies like Rafael and Opgal, and by a growing number
of high-tech and start-up companies of all sizes.
Contact us now to get a quota!