Testview - Your One Stop Shop
Testview is your one stop shop for automated tester development. We work to provide you with a fully developed tester, and integrate it in your production process.
This includes:
Project management – logistical management, system engineering, documentation, and technical writing.
Design – full mechanical and electrical design, and software development in accordance with the SOW.
Manufacturing – wiring, purchasing or developing the required hardware, assembly, and following through to a fully manufactured product.
Integration – delivery, software and hardware integration, training of the development team and of the production line employees, and performance verification.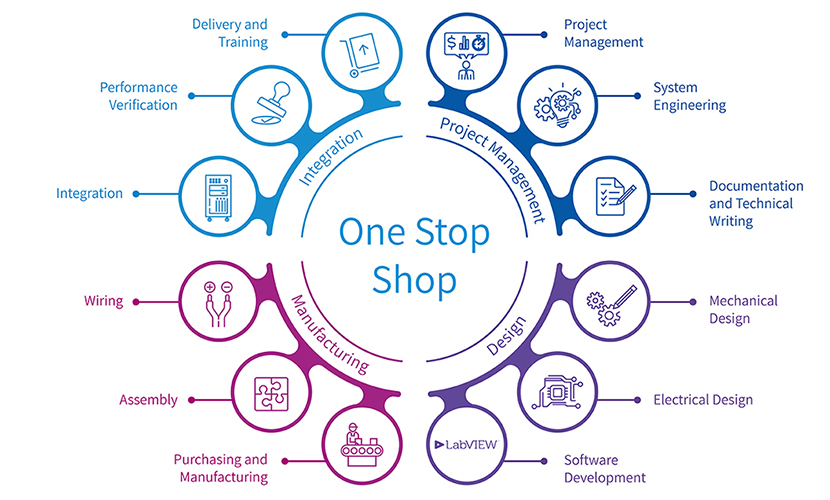 Testview provides complete, well planned, software and system development projects, to be completed within a set time frame.
This includes the entire system development process: from the kickoff, through design, production, and assimilation at the production line. We cooperate with ARC Automation for the mechanical design and production, to deliver a fully developed tester.
Our team follows the requirement specifications – the statement of work (SOW) – presented by the customers to produce the solution that suits them best.
Testview provides hourly assistance with on-going project. This ranges from a few hours or a single workday, to regular weekly assistance.
This means that we can integrate into an existing project at any stage of the development process, depending on our costumers' needs.
Hourly projects can include:
Engineering support – providing additional engineering staff.
Assistance in defining project specifications or in compiling an SOW.
Consultation in Design for Testability (DFT).
Assistance at any stage or process of the development.
After an introductory meeting, an estimation of work hours will be submitted. Payment is hourly, based on actual work hours.
Contact us today to learn more or to hire any of our services!