Semiconductors are everywhere. They are so widespread because their qualities, and especially their conductivity, can be adjusted to fit the needs of different electronic parts. They are used in the Medical, Military, and Automobile industries – just to name a few.
Companies in the semiconductor industry are always looking to innovate – to make our lives easier and more comfortable. 
We offer various services for the semiconductor industry, where it comes to testing semiconductors during the different stages of their production lifecycle.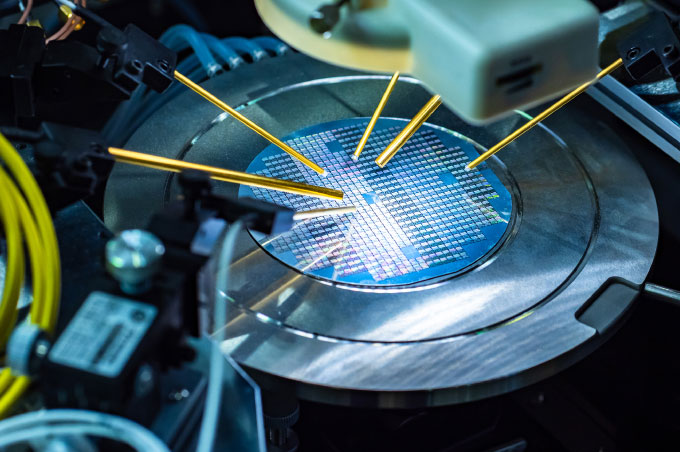 Because we use semiconductors to such extant, companies in this industry need to make sure they work properly, while still keeping up with manufacturing quotas. However, the constant innovation in this field also means constant readjustment in the testing process.
This is where automated tests come in handy. Automated tests make it easy to thoroughly test large quantities of semiconductors, while also providing the flexibility required for testing semiconductors of different complexities and qualities.
Testview - Automatic Test Solutions
Testview already has a lot of experience when it comes to developing, producing, and assimilating automated testers and other flexible test solutions for the Semiconductors Industry. To help companies in this industry get exactly what they need, our team works closely with them from the kick-off of the project, through design, and up to the implementation of the test system on the production line. We provide automated testing solutions for semiconductors during three levels of their production – Wafer Level, Chip IC and Chip Burn-In.
Among our Proven Test Solutions for Semiconductors:
Software and Communication Validation
Optical (Laser) Tester
Device Design Validation
Radio-Frequency (RF) Testers
Bed of Nails
Visual Inspection and Image Processing
PCB Functional Testers
IC Parametric Tester
Burn-In and Reliability Testers
Pneumatic and Pressure
Regulated Test
All these testers are developed using TVI – our proven tester automation framework. It's in use in hundreds of test processes in the Semiconductors Industry already. To learn more, visit the TVI page.