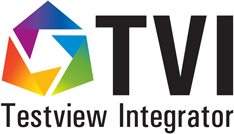 About - The Testview Integrator
TVI is a comprehensive, flexible, and easy-to-use test management framework. It addresses test engineers' need for a simple and cost-effective, LabVIEW™ based, framework for tester development.
TVI is an ideal platform for testing chips, PCBs, modules, and complete systems. It is also used as a process automation platform – for electro-plating, chemical analysis and more.
Deploy TVI for validation or
production test systems
Execute test sequences and
perform simple debugging
Everything that the Runner license includes, and:
Develop and debug test
sequences using an interactive development environment
Use advanced debugging
tools to step into test code
for immediate troubleshooting
Results are saved at local test (CSV) files
Everything that the Base license includes, and:
Results are saved to local,
remote, or cloud SQL server
Everything that the Full license includes, and:
Supports both MS-SQL and
MySQL (sold separately)
Execute test sequences and
perform simple debugging
TVI is a simple and easy-to-operate test automation framework, that allows you to shorten the development time of a tester. It is an easy and quick solution when it comes to developing LabVIEW™-based testers. 
Frequently and unfrequently asked questions, and clear and coherent answers regarding TVI and our work frames, our projects, the services we
provide, and more. This is meant to allow quick access to always available information our customers might be looking for.